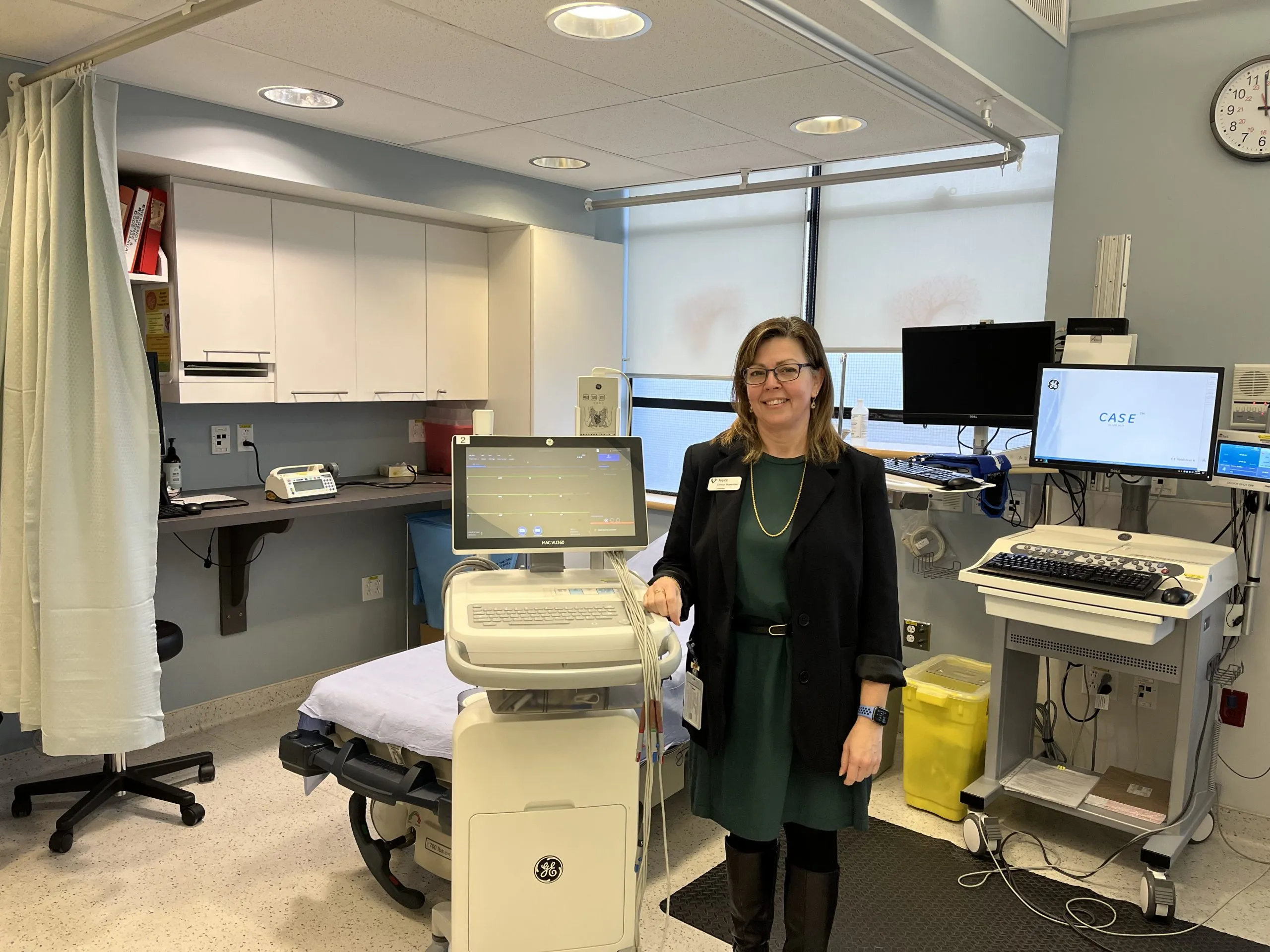 Learning about Diagnostic Cardiology with Joyce
Joyce Munroe is a Supervisor in Burnaby Hospital's Diagnostic Cardiology Department, where she oversees the department's inpatient and outpatient areas. Diagnostic Cardiology performs tests to help determine issues with your heart, including ECG, MPI, and ETT testing, holter monitoring, pacemakers, and other services that supports almost every department in the hospital.
"Cardiac care is often overlooked when you first think of a hospital, but we play an important role in providing incredible services that support all patients," shares Joyce. "We work closely with many departments, including Emergency Medicine, ICU, Nuclear Medicine and more. Our tests are integral to uncovering diagnoses for patients, leading to appropriate treatment that can save their life."
Coming to Burnaby Hospital just two years ago from other larger sites, Joyce brings innovation and outside-the-box thinking to her position. Her role includes both the treatment of patients and administration of the department.
One of the first projects Joyce initiated upon arriving at Burnaby Hospital was to help extend the coverage of the services of her department within the hospital. Diagnostic Cardiology services initially were only available from 7am – 4 pm, and now there is 24/7 care that covers the entire hospital.
— A few of the staff in the Diagnostic Cardiology Department
Joyce feels that the upcoming redevelopment is a needed and timely opportunity to expand the department. With the population growth and increase in demand that she has seen in her department, she knows that it is a necessary next step for the hospital.
"Monetary donations are important to the Foundation, to allow us to do our job – taking care of patients – that much better," Joyce says. "Sometimes care extends past the medical side as well. Half the job is talking to the patient to figure out their specific concerns!"
Joyce recalls a recent case where she saw a Cardiology patient who had been experiencing occasional dizziness and faintness over the course of two years. Multiple doctors were unable to land on a diagnosis, leading to an increasingly frustrating experience for the patient. Joyce administered an Exercise Tolerance Test (ETT) to look for any changes that may occur when there are changes in oxygen levels in the blood and to test for weaknesses in the patient's arteries as a result of the stress. The patient was put on a treadmill and stayed on it until they hit the target heart rate.
"In most cases, once we hit the target rate, we conclude the test," explains Joyce. "However, for his  specific case, we passed the mark and saw no changes.  I had checked with the patient to see if he was comfortable pushing past this limit. Communication about the procedure was a key part of his treatment."
After pushing him a little further, the patient went into ventricular tachycardia (VT), a heart rhythm problem known as arrhythmia, caused by irregular electrical signals in the lower chambers of the heart. VT can be fatal if not treated immediately, but the staff were prepared and he received the appropriate treatment.  
The patient was moved to Emergency and later admitted into the hospital, and Joyce was there for every step. He was outfitted with a pacemaker and an implantable cardioverter defibrillator (ICD) – which is a device that is able to detect and stop deadly arrhythmias.
"I made it a point to check on him every day," Joyce reflects. "I just wanted the patient to know that he were well cared for at our hospital. He even came back after recovering and expressed his thanks for everything the department had done!" 
Joyce notes that the Diagnostic Cardiology Department at Burnaby Hospital also has a very strong sense of community. She shares that her staff are always willing to step up to cover shifts when needed. "We are a family here and all the staff are so dedicated to helping patients at Burnaby Hospital," says Joyce. "Even when dealing with concerns outside of work, they are also thinking about supporting their colleagues and providing coverage in the hospital. I'm sure our patients appreciate that."
—
Celebrate our health care heroes by learning more about our For the Love of Burnaby campaign.