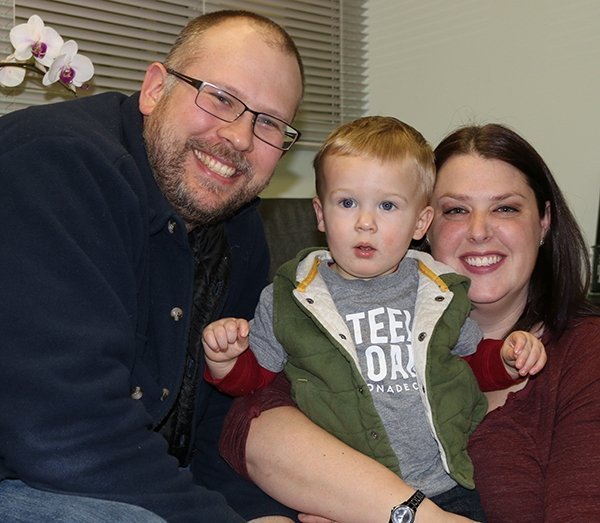 An expectant mother's intuition is resilient and she knows intuitively when something feels wrong during her pregnancy. It's a gut feeling. If she senses danger to her unborn baby, she will be anxious, consumed with emotion — and if life hangs in the balance — she will be terrified. This was Heather Sinclair's experience.
First-time parents, Heather and her husband, Jamie, eagerly awaited the birth of their son in January 2015.
"January 15 was one of the most frightening and exciting days of my life," says Heather. "That's the day I became a mother to my beautiful baby boy, Owen. But it's also the day we almost lost him."
Heather was admitted to Burnaby Hospital after developing late-term pregnancy complications. Although the baby's heartbeat was steady, Heather's blood pressure was dangerously high, a serious but not uncommon obstetrical complication. However, when five rounds of induction didn't bring on labour, Heather was rushed in for an emergency C-section.
The baby boy was delivered shortly thereafter but he didn't have a heartbeat and he wasn't breathing. Our medical experts jumped into action; a code pink was called and infant CPR and resuscitation began immediately. Owen's life depended on getting air into his collapsed lungs and making his heart beat again.
Thanks to the commitment and dedication of donors to Burnaby Hospital Foundation, hospital staff had ready access to advanced respiratory technology in the new Leoni neonatal infant ventilator.
Owen was intubated and, finally, when his tiny heart began to beat again, the Leoni ventilator kept time, quietly breathing for him. It provided the right mixture of air, measured and fed in perfectly regulated baby breaths until he was stable enough to transport.
Owen just celebrated his first birthday. His parents gave donations to Burnaby Hospital Foundation on Owen's behalf.
Undoubtedly, the generous support and dedication of Foundation donors contributed to the positive outcome for baby Owen and his family.
Respiratory care for infants is unusually challenging. Not only does it call for the utmost procedural skill on the part of clinicians, it also demands advanced technology and finely calibrated equipment specially designed to fit tiny infant airways. Too little air can cause lungs to collapse, and too much can pop a hole in their delicate lungs.
Through the generous support of donors, Burnaby Hospital had this "smart" ventilator technology available at the very moment it was needed — when every breath and every minute counted.